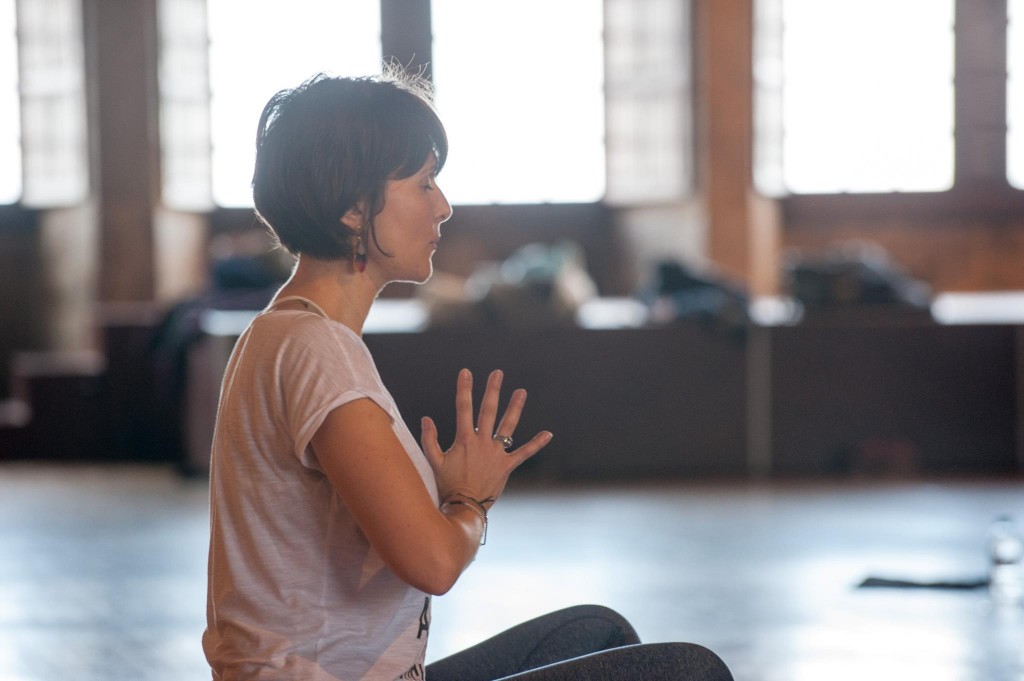 Art & Yoga au Château d'Annecy ©Quentin Trillot – Ville d'Annecy
Very early on, I came to care about the spiritual aspects of life – through dancing, fine arts, cinema, music and travels. Artist, yogi, poet, hippy, nomad such are the words that define me! It's in 2006 that yoga came into my life. At first, I practice in order to deal with stress. After my first yoga class (Viniyoga) I realize how important the breath is and I immediately feel the benefits of centering. Growing interested in the subject, I start doing workshops (yoga) and trainings (Reiki practitioner) to understand how the human body functions, both on a physical and energetic level. In 2010 I decide to move back to my hometown Annecy and start working as a fine artist.
Postural problems lead me to broaden the scope of my understanding in trying other styles (Hatha, Kundalini) and  I discover Anusara®Yoga, in which I find a support in periods of doubts. To me it becomes clear that by practicing Anusara yoga I express my truth, my creativity and my emotions. Wishing to go on a spiritual journey, I decide to go to Bali for my 1st training, where I deepen my practice and develop a more holistic approach (thanks to my teachers Emily Kuser, Nanna Wagner et Andrea Boni). I complete my yang practice with Yin®Yoga, a slower practice, where movements are more introspective and poses are held for several minutes through the use of props so as to focus on the stretch of the connective tissues. Essentially inspired by Chinese medicine, it will work on an energetic level (meridians located in the lower part of the body, below the navel). Without muscular effort, the body deeply stretches, through the natural help of gravity. With mindfulness and breath, the mind relaxes.
It is because I believe in the virtues of yoga that I wish to share this philosophy and practice with a large number – kids and adults alike! Yoga is for me a medicine of body and mind which allows people to reconnect to their essence, their true Nature. 
Yoga is not a destination but a journey and I'm happy to have started this journey where we learn everyday. I keep doing trainings and learn with my teachers, for whom I feel deep respect and gratitude.


TRAININGS
– ThaiVedic Bodywork with K.Nichols & S. Bruno | 60hrs
– Rainbow Kids Yoga ® Munich
– Yin Yoga with C. Roubaud & V. Carlier
– Anusara® Hatha Yoga with BJ Galvan |200hrs RYT
– Hatha Yoga (base Anusara) with E. Kuser (Bali) |200hrs RYT
– Yoga ludique with V. Cochard
– Reiki I, II with G. Faury, Annecy